Meeting/Event Information
"Hollywood Science: Good for Hollywood, Bad for Science?" - Sidney Perkowitz, ACS Chicago Section Holiday Party&Meeting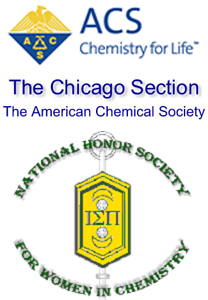 Fanciful interpretation and extrapolation of science is de rigueur in the movies. Even when it's hilarious, it mirrors society's contemporary worldview. Is it always fun, or does it sometimes promote misunderstanding? Come join the discussion with author/physicist Sidney Perkowitz at the 2011 chemists'
h

o

l

i

d

a

y

e

x

t

r

a

v

a

g

a

n

z

a

!
Santa will be there with gifts, and we're asking everyone to share the spirit of the season by bringing a donation of non-perishable food, clothes, and toys for those less fortunate. For more details, please refer to p.2 of the December Chemical Bulletin.
5:30 - 6:30 PM · Job Club
6:00 - 7:00 PM · Social Hour, cash bar, complimentary Hors D'oeuvres
7:00 - 8:00 PM · Dinner
8:10 PM · General Meeting
Like it or not, most science depicted in Hollywood's feature films is in the form of science fiction. This
won't change any time soon because these films are huge moneymakers, which, however, also make
them a powerful cultural force. They reach millions as they depict scientific ideas from cloning to
space science, whether correctly or incorrectly; reflect contemporary issues of science and society;
inspire young people to become scientists; and provide defining images – or stereotypes – for the
majority of people who've never met a real scientist.
Many scientists feel that screen depictions of science and scientists are badly distorted, but there's
generally a nugget of real science. In this talk, based on my book Hollywood Science [1], I'll present
film clips showing good and bad screen treatments of science and scientists, and discuss ways to
improve how science is treated in film including using even bad movie science to convey the real
thing.
[1] Sidney Perkowitz, Hollywood Science: Movies, Science, and the End of the World (Columbia University Press, New York, 2010).
Dinner:
Fresh Fruit Cup
Tomato Florentine Soup
Tossed garden salad with choice of dressing
Entrée choices:
Vegetarian rolled Verdi Ricotta
Baked Salmon with cucumber/dill sauce or Filet Mignon with mushroom cap and Béarnaise sauce on the side
Baked potato
Prince Albert blend of wax beans, green beans and carrots
Apple Cobbler
Tickets
$37.00 Member
$39.00 Non-member
$20.00 Student/Unemployed/Retired
$0.00 Cash at the door: $35 member/ $37 nonmember/ $20 student/retired/unemployed