Meeting/Event Information
"The Poisoner's Handbook" - Dr. Deborah Blum (February 2013)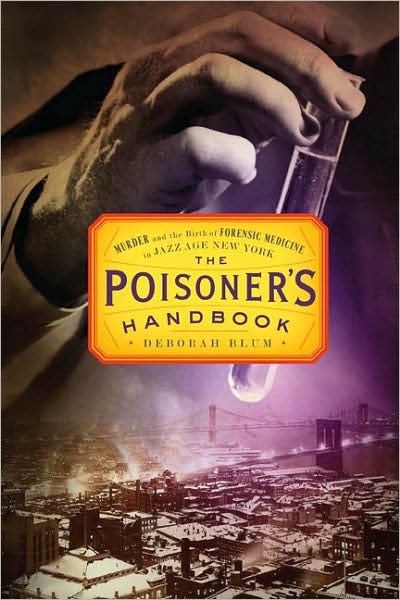 Mystery! Intrigue! Chemistry! The February meeting of the Chicago ACS proudly features Pulitzer-prize-winning author of The Poisoner's Handbook, Dr. Deborah Blum, who will explain "How I Learned to Love the Homicidal History of Chemistry"
We'll be gathering at the Parthenon in Greektown, which is easy to get to by train and bus, and has free valet parking. The Younger Chemists Committee will have a table specially for students and young professionals, which always makes it more fun.
ABSTRACT:
The science of forensic toxicology is a relatively new one - we didn't even begin training researchers in forensic medicine until the 1930s - and its story is a remarkable one of science and politics, discovery and determination, and, of course, a story of murders both solved and unsolved. Within this context, we see the eventual integration of science into criminal justice leading to its influential role in that system today.
PROGRAM
5:00 - 6:00 PM · Job Club
5:30 - 6:30 PM · Social Hour
6:30 - 7:30 PM · Dinner
7:30 - PM · General Meeting, including talk
MENU
Greek Family Style Dinner--
Appetizers: Saganaki (Kaseri cheese flamed in brandy), Gyros (roasted slices of lamb and beef), Taramosalata (fish roe blended with lemon and olive oil); traditional Greek salad.
Main course: Vegetarian Spinach-Cheese Pie, Vegetarian Pastitsio (Macaroni baked with broccoli, Bechamel sauce and Kefalotiri), Dolmades (vine leaves stuffed with rice, meats and herbs), Rotisserie-roasted lamb served with rice pilaf and roasted potatoes.
Desserts: Baklava (flaky layers of Phyllo baked with nuts and honey) and Galaktobouriko (flaky layers of Phyllo with vanilla custard and baked with syrup.
BIOGRAPHY
Dr. Deborah Blum is a Pulitzer-Prize winning science writer and the author of five books, most recently The Poisoner's Handbook: Murder and the Birth of Forensic Medicine in Jazz Age New York, a New York Times paperback best seller. Her e-single, Angel Killer, written for The Atavist was a #1 non-fiction single on Amazon this fall.
Blum also writes for a wide range of publications, including The New York Times, Slate, The Wall Street Journal, The Los Angeles Times, Scientific American and Time magazine. She also blogs about chemistry, culture (and the occasional murder) for Wired Science Blogs at Elemental: http://www.wired.com/wiredscience/elemental.
She teaches creative non-fiction, literary journalism and science journalism at the University of Wisconsin-Madison, where she is the Helen Firstbrook Franklin Professor of Journalism. Prior to joining the university, she was a science writer for The Sacramento Bee where she won the 1992 Pulitzer Prize for a series on ethical issues in primate research.
The series became her first book, The Monkey Wars (1994). Other books include Sex on the Brain (1997), Ghost Hunters: William James and the Search for Scientific Proof of Life After Health (2006) and Love at Goon Park: Harry Harlow and the Science of Affection (2011, second edition). She is currently working on a book about the chemical history of poisonous food.
A past president of the National Association of Science Writers (US), Blum now sits on the board of the Council for Advancement of Science Writing (CASW) and The Open Notebook. In her spare time, she hangs out with her husband, two sons, and a very friendly Labrador at her home in Madison, Wisconsin.
KEYWORDS:
chemistry, chemical, chemist, chemical engineering, science, scientist, scientific, chicago, chicagoland, chicago area, pharmaceutical, pharma, engineer, engineering, materials, material, materials science, academic, academia, college, university, industry, industrial, enterprise, science_writing, writing, write, author, book, text, forensics, mystery, intrigue, science writing, fiction, bookclub, book_club, journalism, science_journalism
Tickets
$37.00 Member
$39.00 Non-member
$20.00 Student/Unemployed/Retired
$0.00 Cash at the door: $35 member/ $37 nonmember/ $20 student/retired/unemployed