Meeting/Event Information
The Great Lakes: More Than Just H2O - Helen Domske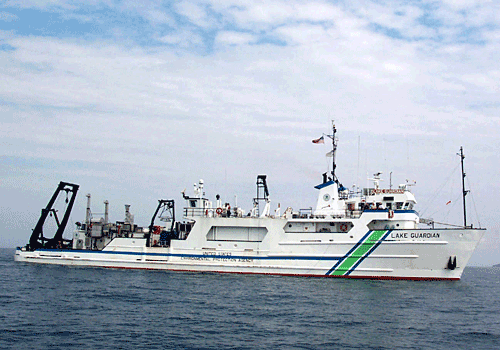 Science Afloat! Our intrepid Education Night speaker Helen Domske sails the Great Lakes, bringing scientists and educators together aboard the EPA research ship Lake Guardian. In a well-equipped pollution-free floating laboratory, dedicated scientists investigate lake water chemistry dynamics, invasive species and their ecosystem impacts, microorganisms like botulism bacteria, and many critical geophysical properties that inform us about the Lakes' health and the effects of climate change.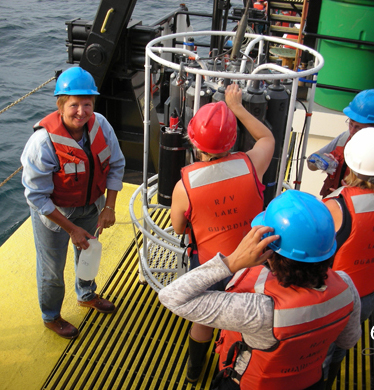 Domske teaches the educators about Great Lake science, coordinates their work with the scientists, and helps them develop lessons for their shore-bound students around the region. This research program is a model of the interdisciplinary scientific paradigm, comprising elements of basic chemical, biological, and ecological sciences, K-12 education, government agency research, university research, applications in science policy and regulation, international affairs ... the list continues, and speaker Domske is at the center of the action, ready to tell us her story. Please join us at our September meeting to hear her excellent and engaging tales.
We'll be at Loyola University, which is easily accessed by public transportation and features close parking for those who drive. Dinner will be in the large cafeteria, making this an exceptionally affordable event. Furthermore, we'll be presenting awards to the outstanding high school students who took top marks in our scholarship exams.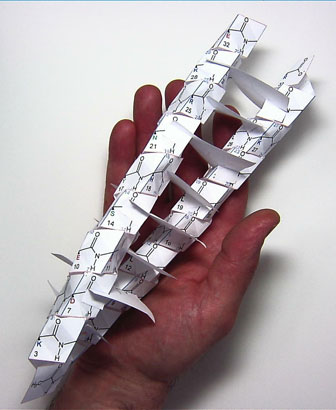 PRE-DINNER TALK
Molecular Origami for Biochemistry: Paper Models of Proteins, Carbohydrates & DNA
Prof. Charles Abrams (Truman College)
Linus Pauling begat the science of structural biology by tinkering with paper models of polypeptides until they formed structures that were consistent with observed X-ray diffraction data. (See this free PNAS paper for the history.) With this very simple hands-on model-building method, Pauling transformed chemical and biological science. At our September 27 meeting, Prof. Abrams will show us how we can wield this power ourselves by providing us conceptual tools and pieces of paper to construct our own models and show students how to do it for themselves!
PROGRAM
5:00 - 7:30 · Poster Session
5:00 - 6:00 · Job Club
5:30 - 6:15 · Pre-Dinner Talk (Molecular Origami, Flanner Hall rm#105)
6:00 - 7:30 · Buffet Dinner in the nearby Simpson Living Center
7:30 - 7:45 · High School Scholarship Awards
7:45 - · Main Talk (Great Lakes)
ABSTRACT - MAIN TALK (Great Lakes)
They hold nearly 20% of the world's available freshwater - but the Great Lakes are an amazing resource that many of us take for granted. Learn about the wonders of the watershed, some of the critical issues facing the Great Lakes and what is being done to protect them for future generations. The talk will cover research being conducted by scientists and educators aboard the USEPA ship Lake Guardian that focuses on water chemistry and life in the lakes.
ABSTRACT - PRE-DINNER TALK (Paper Molecules)
Understanding protein-protein and protein-DNA interactions is important in biochemistry and molecular biology, but expensive models are required for hands-on study by students. In this presentation, a method for modeling large biomolecules with paper will be demonstrated. These models are affordable, easy to construct, and allow educational activities that are impossible with other kits. Inspired by Pauling's paper model of an alpha helix and Hanson's book "Molecular Origami", the models start with a molecular structure printed on standard weight paper, along with lines for cutting and folding. Pairs of numbers guide alignment of hydrogen bonds, which are secured with transparent tape. For proteins, the resulting models accurately represent the backbone atomic positions of alpha helices and beta sheets. Non-repetitive structures can also be built accurately. Disulfide bonds and other tertiary interactions can be added, and a variety of super-secondary motifs and quaternary structures can be created. Student-built models of the Rossmann fold, a leucine zipper, and collagen will be exhibited, and participants will have the opportunity to build their own models.
BIOGRAPHIES
Helen Domske is a Senior Extension Specialist for New York Sea Grant/Cornell Cooperative Extension. She also serves as the Associate Director of the Great Lakes Program at the University at Buffalo. Helen is the Education Coordinator of New York Sea Grant and the New York leader for the Center for Great Lakes Literacy. Helen Domske has worked for Cornell University for 19 years and has developed a productive Great Lakes education program.
Ms. Domske educates the public about issues affecting the Great Lakes. She frequently speaks to school children, fishermen and boaters about how they can help prevent water pollution and the spread of invasive species. Prior to joining University of Buffalo, Domske worked as curator of education for the Aquarium of Niagara Falls from 1979 to 1993. As a scuba diver of more than 30 years, Domske has witnessed, firsthand, many of the changes happening within the Great Lakes, including the spread of invasive mussels across the lake bottoms.
Charles B. Abrams has been teaching organic chemistry at Truman College (City Colleges of Chicago) for 11 years, and taught at Beloit College (WI) for five years prior to that. Twenty years ago he wrote IR TUTOR, distributed by Wiley, which is still in use today. More recently, he designed and built the Truman College Studio Classrooms for general and organic chemistry. He continues to collaborate with several chemistry faculty at Loyola University on a variety of projects.
PARKING AND TRANSPORTATION
Parking: Enter the campus at the intersection of Kenmore and Sheridan Road and bear to the left. Parking is available at the parking deck next to Flanner Hall for about $8.00. Enter the garage at the entrance marked "Faculty, Students, Guests, Visitors." When leaving the garage, first purchase an exit parking ticket at the pay station machine located near the garage stairs and elevators.
Public Transportation: Please see the folowing Google Map: http://goo.gl/maps/4z41q
• From University of Chicago Hyde Park: http://goo.gl/maps/wTksw
• From University of Illinois at Chicago: http://goo.gl/maps/rOKvD
Northwestern University (Evanston): Take the Intercampus Shuttle and get off at the Sheridan/Loyola stop:
http://www.northwestern.edu/uservices/transportation/shuttles/intercampus/evanstontochicago_times.html
KEYWORDS:
chemistry, chemical, chemist, chemical engineering, science, scientist, scientific, chicago, chicagoland, chicago area, pharmaceutical, pharma, engineer, engineering, materials, material, materials science, academic, academia, college, university, industry, industrial, enterprise, energy, future, power, climate change climate_change, weather, global warming, climate science, climate_science, water, water_quality water quality, great lakes, great_lakes, natural resources, natural_resources, field_science, field science, environmental science, environmental_science, environment, ecosystem, ecology, ships, boats, lake_michigan, lake michigan, natural_resources, modeling, molecular modeling, theory, paper, origami, paper folding, education, teaching, science education, linus pauling, alpha helix, biolog, structural biology
Tickets
$37.00 Member
$39.00 Non-member
$20.00 Student/Unemployed/Retired
$0.00 Cash at the door: $35 member/ $37 nonmember/ $20 student/retired/unemployed